NPDB Insights - May 2020
National Practitioner Data Bank Query Fees Waived
The NPDB is temporarily waiving query fees (both one-time query and continuous query) to support our users' efforts in combatting the COVID-19 pandemic. The waiver is retroactive from March 1, 2020, through May 31, 2020. Read More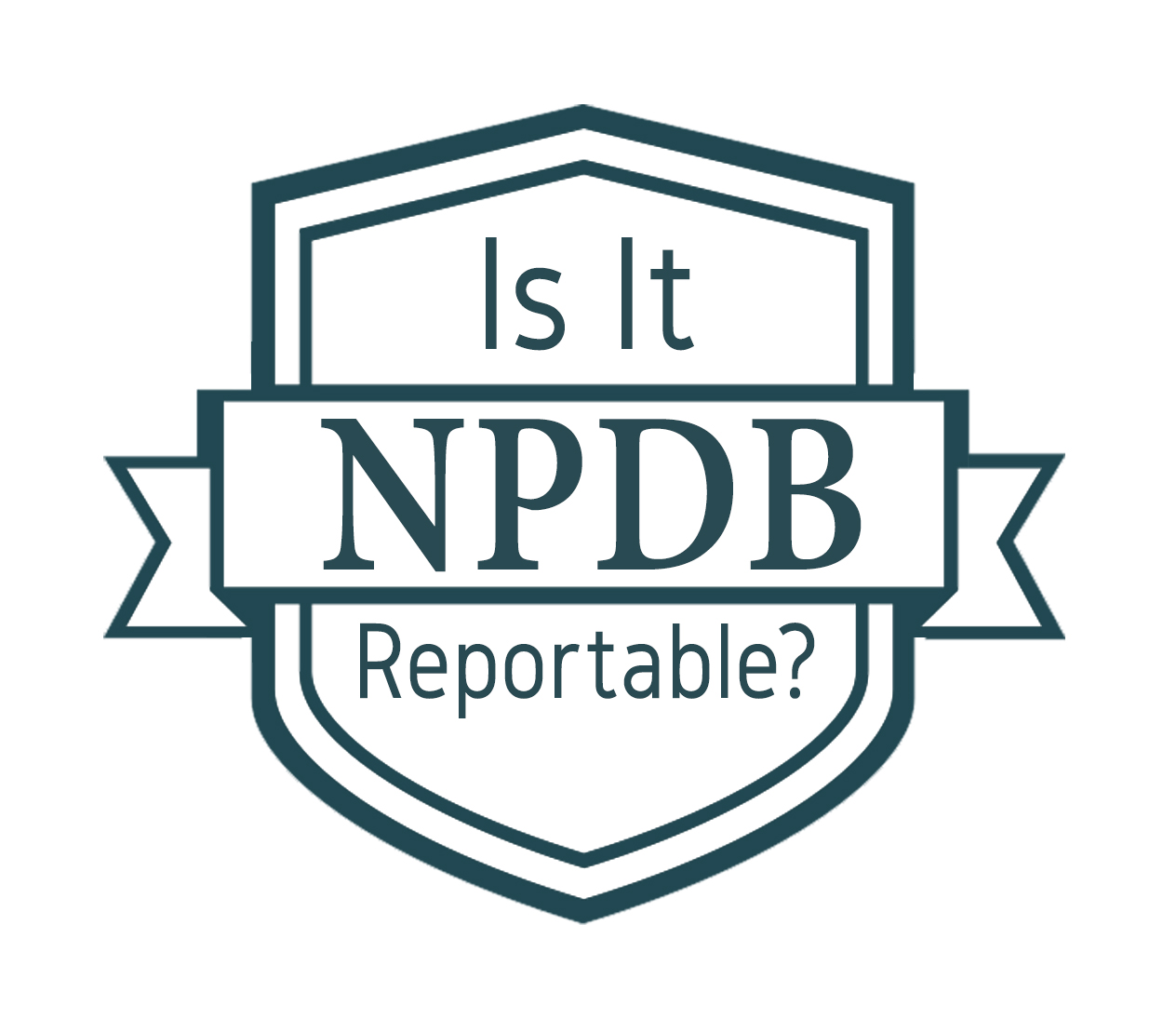 Is It Reportable?
My organization is extremely busy due to the COVID-19 pandemic and is unable to fully conduct investigations and hearings. If we summarily suspend a practitioner's privileges during this time, will the NPDB allow us to hold off on submitting the report until we are able to complete a full investigation?
We recognize that these are unprecedented times and hospitals and other health care entities are facing challenges never before encountered. Similarly, there has never been a more critical moment for accurate and timely NPDB information than the current one. We remain committed to ensuring the dependability of the NPDB as a valuable workforce tool and as such will not be pausing the reporting of any required information.
Health care entities are statutorily required to report any professional review action that adversely affects the clinical privileges of a physician or dentist for more than 30 days. Hence, a summary suspension meeting this statutory requirement is reportable to the NPDB. On a later date, after the investigation has been completed, if the reporting organization determines no action should have been taken and the practitioner's summary suspension is vacated, the reporting organization should void the report. However if the summary suspension is upheld and a subsequent action is taken, a revision to the action should be submitted. If you wish, you may add language to the narrative section of the report indicating an investigation relating to the summary suspension has yet to be conducted due to competing matters.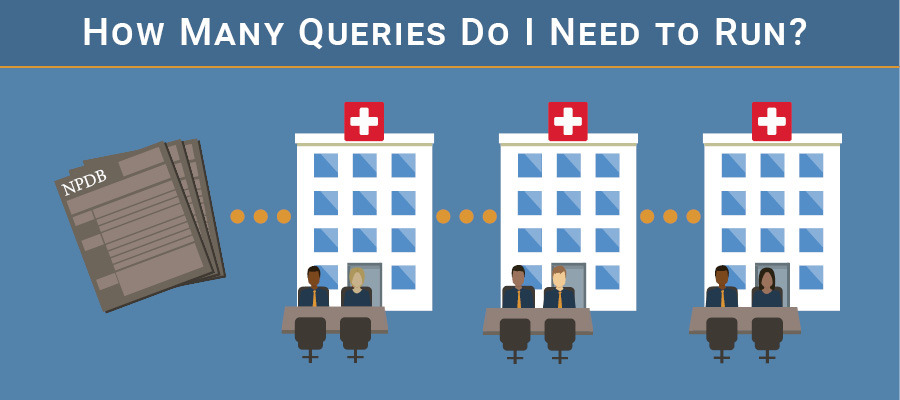 Querying with Centralized vs. Decentralized Credentialing
At the NPDB, we know many health care systems are composed of multiple entities (such as several hospitals, outpatient surgery centers, and clinics) where practitioners may be providing services at more than one facility. How your health care system queries these practitioners, and with whom those query results can be shared, is determined by your credentialing process.
Centralized Credentialing
If your health care system uses centralized credentialing, a single query will satisfy the querying requirements for all entities functioning within your health care system, even if a practitioner provides services in more than one of your entities.
Your health care system uses centralized credentialing if you:
have universal credentialing,
have a centralized peer review process,
grant privileges to provide services in any of your facilities, and
have one decision-making body.
Decentralized Credentialing
If your health care system uses decentralized credentialing, each entity must query independently on a practitioner, regardless of whether or not the practitioner is practicing in multiple entities and has already been queried on by some of those entities.
Your health care system uses decentralized credentialing if each entity within the health care system:
conducts its own credentialing,
has individual peer review processes,
grants privileges to provide services in only that facility, and
has its own decision-making body.
Sharing Querying Information?
If your health care system is utilizing centralized credentialing, you may share query response information between individual entities within your health care system, as you are functioning as a single, centralized system. If your health care system is utilizing decentralized credentialing, the sharing of query response information between entities is prohibited, as each of your entities is functioning separately from one another. Regardless of which form of credentialing your health care system uses, sharing a query response with an entity or individual that is not part of your health care entity's credentialing, investigation, or peer review process violates the confidentiality provisions of the NPDB, regardless of any written consent from the practitioner.
For more information about centralized and decentralized credentialing, and what they mean for your health care system's querying requirements, take a look at our How Many Queries Do I Need to Run? infographic, or visit the centralized credentialing and decentralized credentialing sections of the NPDB Guidebook.

Understanding Reports
When an authorized organization registers with the NPDB they are required by federal regulations to report certain actions taken against practitioners, providers, and suppliers.
Organizations that are registered with the NPDB and are eligible to query may view reports stored in the NPDB; however, this information is intended to be used in combination with information from other sources when entities are making decisions regarding licensure, employment, contracting, membership, or clinical privileges, or when conducting investigations.
The following are some of the actions on which the NPDB collects information and maintains reports:
Medical malpractice payments
Federal and state licensure and certification actions
Adverse clinical privilege/panel membership actions
Negative actions or findings by private accreditation organizations and peer review organizations
Health care-related criminal convictions and civil judgments
Exclusions from participation in a federal or state health care program (including Medicare and Medicaid exclusions)
Other adjudicated actions or decisions (including health plan contract terminations)
There are four different types of NPDB reports:
Initial Report:The first instance of a reportable action, such as a medical malpractice payment.
Correction: A report to correct an error made in a previously submitted report (e.g., wrong date of birth, name, gender, state license number, or type of action taken). The correction report replaces the previous report.

Revision-to-Action: A report of an action that modified a previously reported action, such as a reinstatement of a suspended license or a change to the length of a suspension.

Void: The withdrawal of a report in its entirety. Appropriate reasons for voiding a report include: the report was submitted in error, the action was not reportable because it did not meet NPDB reporting requirements, or the action was overturned on appeal.

The NPDB offers many different resources to better understand reporting. For more information on types of reports and reporting requirements, visit our Reporting FAQ page, or the Reports chapter of the NPDB Guidebook. For a complete list of reportable actions and the federal regulations that govern them, visit our Summary of Reporting Requirements table.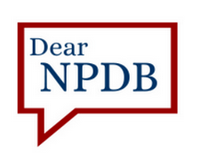 Dear NPDB
What is the minimum amount of information I can provide for a query and still receive an accurate result?
We encourage queriers to send us as much data as possible. When reports come in, they are sometimes missing pieces of data and not every field is populated – because some fields are optional, and information cannot always be obtained by reporting entities. We do not have a master list of all practitioners and so we rely on matching the information from your query with the information in existing NPDB reports.
When submitting a query, you may be inclined to leave certain fields blank in order to save time. Please keep in mind that missing or inaccurate data may cause your query results to indicate that no report exists on the queried practitioner when, in fact, one does (i.e., a "false negative").
In addition, queries submitted with missing data generally require additional processing time, while queries with complete and accurate data are typically processed within seconds.
To ensure you receive the most accurate and timely query result:
Enter the practitioner's full name and any other names they have previously used. Make sure you include first, middle, and last names and any suffix (Jr., Sr., III, etc.). Do not enter titles such as M.D., R.N., or Ph.D.
Select the practitioner's gender. If gender is unknown or not supplied, select the unknown option.
Enter the practitioner's birth date. Use the MM/DD/YYYY format (01/25/1955 for January 25, 1955).
Enter all the practitioner's identification numbers you have available. This includes social security numbers (use the NNN-NN-NNNN format), DEA number, National Provider Identifier (NPI), etc.
Enter all license numbers held by the practitioner. Enter the occupation and the state and license number(s). This includes any inactive or expired licenses previously held by the practitioner.
Enter the practitioner's professional school and year of graduation. Enter the name of each health care professional school attended by the practitioner and their four-digit year of graduation.
Before submitting your query, review the information to ensure its accuracy.
Using these strategies can speed up your query submission and response time, help ensure you receive accurate query results, and save you time and effort during your credentialing process.
For more information on the querying process, and for more instructions on how to submit quality queries, take a look at our querying infographics. If you are interested in learning how to create and maintain a Subject Database, which pre-populates query forms with identifying information, visit our How to Maintain a Subject Database page.
The latest updates and resources are available at https://www.npdb.hrsa.gov.
Previous editions of NPDB Insights are available in our archive.
(https://www.npdb.hrsa.gov/news/newsArchive.jsp)