NPDB Insights - June 2018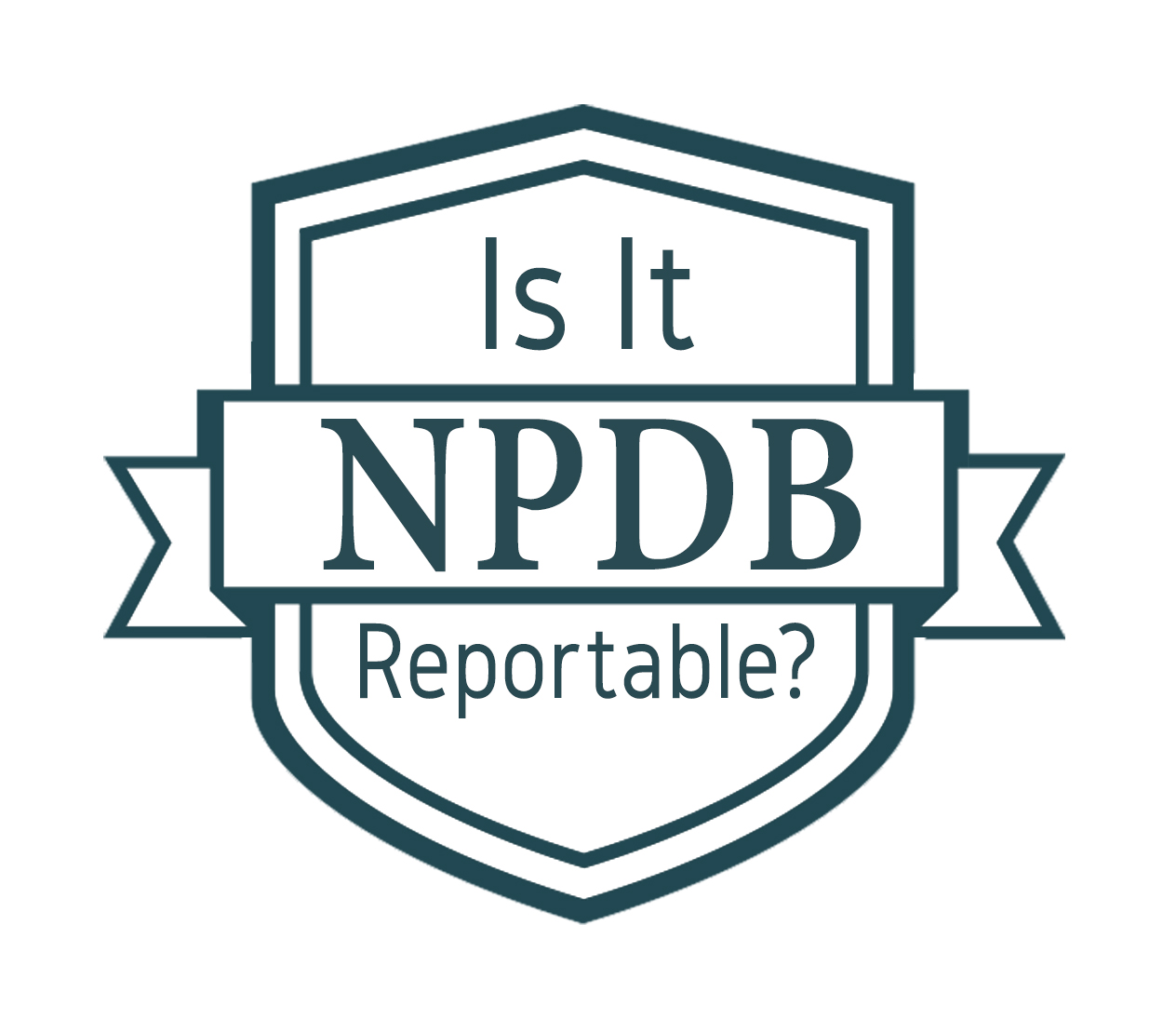 Is It Reportable?
Are medical malpractice payers required to report payments made for the benefit of a deceased practitioner?
Yes. Medical malpractice payers must submit reports of payments made for the benefit of deceased practitioners because fraudulent practitioners may seek to assume the identity of a deceased practitioner. One of the principal objectives of the NPDB is to restrict the ability of incompetent practitioners to move from state to state without disclosing their previous damaging or incompetent performance.
Customer Service Center (CSC) Quick Tip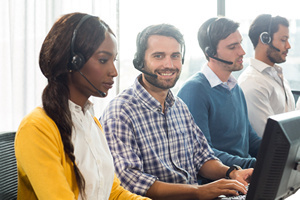 Did you know the CSC can only reset passwords for your organization's Data Bank administrator?
For the security of your account and NPDB data, our CSC team can only reset passwords for user accounts with an administrator role. However, all users can reset their password by using the Need Help? button on the Sign In page or by contacting their Data Bank administrator. We recommend that organizations have multiple users with administrator roles in case you can't reach one of the administrators.
Are you an administrator wanting to reset a password but don't know how? Avoid having to call us by visiting our FAQs.
To set up multiple administrators, visit the How to Become the New Administrator page.
Why You Should Use the NPI Number for Querying and Reporting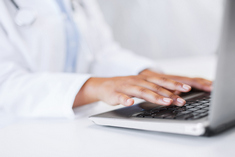 A National Provider Identifier (NPI) number is a 10-digit identification number issued to health care practitioners and providers by the Centers for Medicare and Medicaid Services (CMS).
The NPI number identifies each practitioner or provider in a specific way. When you include the NPI number in a report, it helps confirm the practitioner's identity, ensuring more precise matching. Additionally, when your query includes the NPI number, it makes it easier for the NPDB to match existing reports, resulting in a faster response. Without the NPI, your query results may be delayed.
You can easily find or verify a practitioner's NPI number by going to the NPI Registry website.
Remember, when submitting a query or a report, always provide the most complete data available to you—not only the NPI number, but also the Social Security number, date of birth, school, year of graduation, and license number. The NPDB can typically process queries and reports that have complete and accurate data within a few seconds, providing you with an immediate, precise response.
Understanding Judgment or Conviction Reports
The NPDB collects information on health care-related criminal convictions and civil judgments, called Judgment or Conviction Reports (JOCRs). Federal, state, or local prosecutors must submit a JOCR when a health care-related criminal conviction occurs, or an injunction or no-contest plea is entered. The actions taken must be related to the delivery of a health care item or service, as seen in the following reportable examples: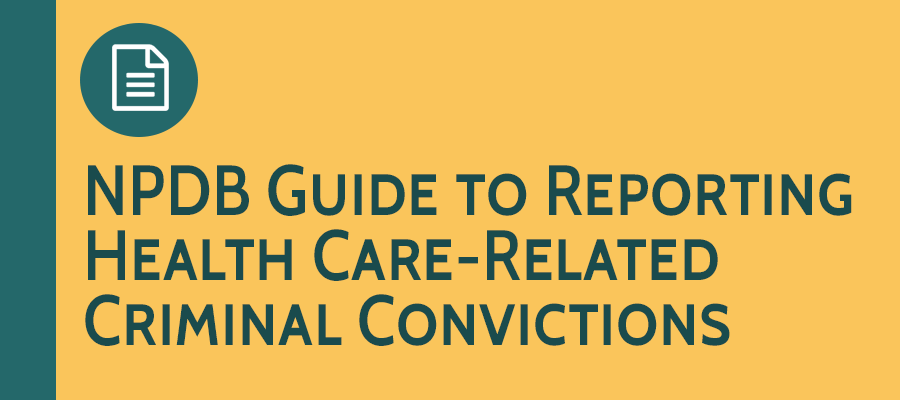 A nursing assistant is convicted of abusing patients in a nursing home and is sentenced to 2 years in state prison.
A practitioner agrees to complete a 6-month probationary period and 4 months of community service in exchange for dismissing a deferred adjudication for health care fraud.
A physician pleads no contest to charges that she billed the Medicare program for services that were not medically necessary.
A court issues an injunction against a residential nursing facility to cease and desist using intimidation against the facility's residents to keep them from relocating.
Additionally, federal and state attorneys and health plans must report civil judgments that are related to the delivery of a health care item or service and are entered against health care practitioners, providers, or suppliers: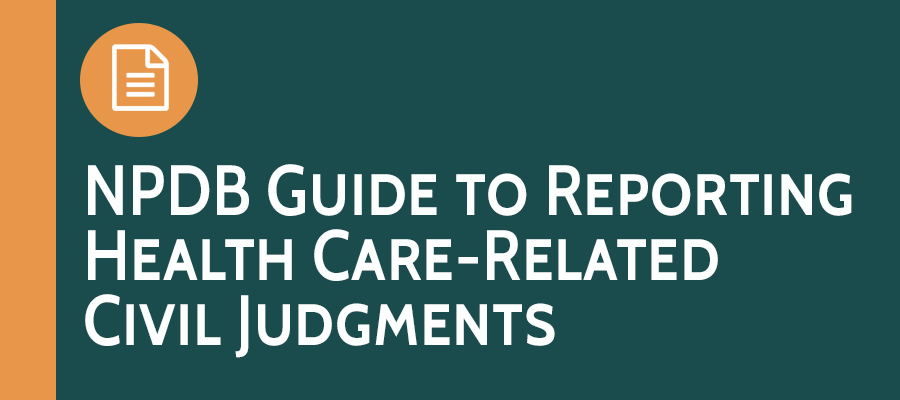 A judgment is entered against a clinical laboratory, resulting in a $10,000 award for fraudulent billing and misleading marketing in a suit brought by health insurers and health care payers.
A judgment against a nursing home imposes a $50,000 fine for neglect and for failure to adequately clean patients' rooms.
A judgment against an ambulance company results in a $30,000 fine for filing false claims and receiving payments for ambulance transportation in cases that were not medically necessary and for patients whose ambulatory status did not require such transportation.
Even if a judgment or conviction is pending appeal, these actions are still required to be reported within 30 days of the date of the judgment or conviction.
Do you have a policy-related question about Judgment or Conviction Reports? Check out Chapter E: Reports of the NPDB Guidebook and our reporting infographics.
Read more about NPDB reports in the previous Insight editions: Understanding NPDB Reports and Three Important Report Types.
The latest updates and resources are available at https://www.npdb.hrsa.gov.
Previous editions of NPDB Insights are available in our archive.
(https://www.npdb.hrsa.gov/news/newsArchive.jsp)