What is the difference between a Correction Report and a Revision-to-Action Report?
The NPDB has four different report types: Initial, Correction, Revision-to-Action, and Void. Corrections and Revisions-to-Action can only be submitted once an Initial Report has been received and processed by the NPDB.
Correction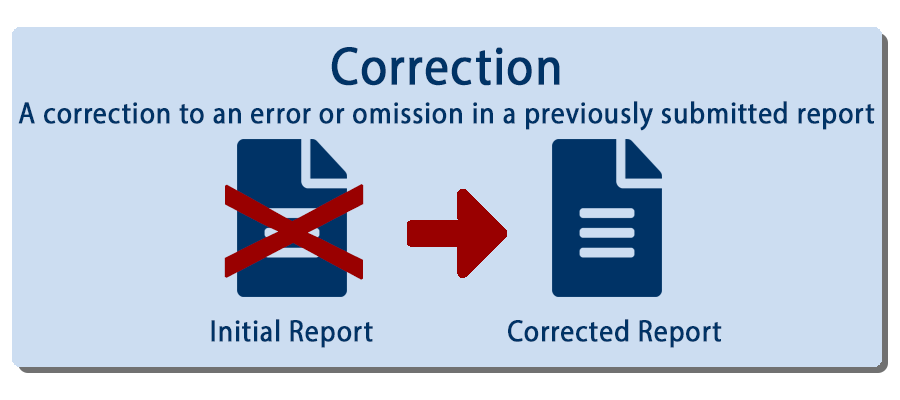 A Correction fixes an error or omission in a previously submitted report. The reporting entity must submit a Correction as soon as they discover an error or omission is present.
A Correction Report, which can be submitted as often as necessary, replaces the previously submitted report. (The previous report is then no longer part of the disclosable record.)
The NPDB provides a copy of the Correction Report to the reporting entity and all queriers who received the previous version of the report within the past 3 years. The NPDB also notifies the subject of the report.
Examples of when a Correction must be submitted:
There is a spelling error in the practitioner's name
The action code is incorrect
Information about the action taken is not included on the report and needs to be added
Revision-to-Action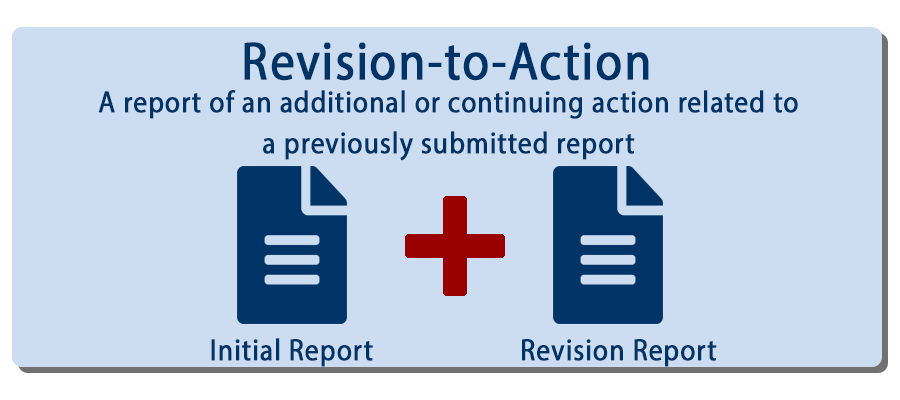 A Revision-to-Action is a modification to an action that has already been reported. In other words, it is a report of an additional or continuing action that is related to a previously reported action.
A Revision-to-Action does not replace the preceding report(s). Rather, it becomes an additional part of the disclosable record.
Examples of when a Revision-to-Action must be submitted:
An additional sanction is taken against the subject of a report based on a previously reported incident
The length of an action is extended or reduced
Clinical privileges, professional society membership, accreditation, program participation, or a license is reinstated
The original suspension or probationary period ends
For a more in-depth overview of all four report types, check out the infographics on our About Reports page. For more examples of when specific reports should be submitted, visit the Types of Reports section of the NPDB Guidebook.
Other Questions You May Find Helpful
Related Resources